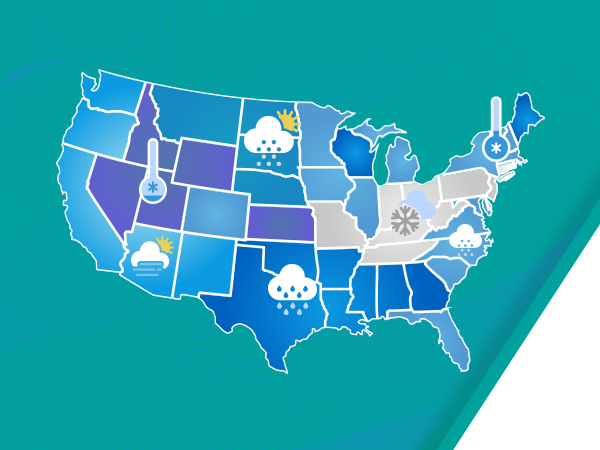 While the concepts of climate and weather are related, they are not synonymous. They both refer
to atmospheric variables around temperature, wind, precipitation, and other factors; however, they cover
different periods of time. Climate observes of weather variations at specific locations over a long time,
usually about 30 years on average. On the other hand, weather deals with variations within a short-term
period, and observation is more frequent, as variations can occur even on a minute-to-minute basis.
In simple words, climate will determine the need to purchase an umbrella ahead of the winter
season, and weather will let you know if you need to take it when you go out on a given day.
Why are climate and weather forecasting so important for farmers?
Understanding climate conditions in our region can influence from the clothes we use to the best
place to install wind turbines. This knowledge, coupled with everyday forecasting, allows us to have
control over our lives and make decisions based on what to expect and how to prepare ourselves to deal
with these possibilities.
The same happens in agriculture. Hundreds of farmers across the country rely on climate
predictability to make decisions around their crops and have a general idea of the path they will be
following ahead of the changing seasons, depending on their location. Most importantly, they can
determine what, when, and where to plant, ensuring revenue streams and production estimations based
on their region's general conditions.
Forecasting allows farmers to plan and have control over their work by providing short-term
information that can predict the overall state of the area and have clarity over important operational
aspects such as plant growth, humidity and irrigation, average temperature, and pesticide spraying
periods. Having this information can aid in decision-making to maintain a cost-effective operation,
allocating resources and efforts to small seasonal and daily actions, and staying ahead of potential
disturbances that may negatively affect production.
One very clear example is setting irrigation schedules. Suppose the weather forecast informs
there will be rain during the week. In that case, the farmer can rely on this information to readjust their
planning and take advantage of the natural water instead of running their irrigators, saving money and
maintaining crop integrity.
The impact of climate change
Agriculture is particularly vulnerable to changes; a delicate balance is needed to yield good crops
that even slight alterations can destroy. This new reality makes it harder to predict and decide the best
course of action to take during an unexpected event, exposing crops to abnormal climatic events for which
they are neither accustomed nor resistant. The proliferation of pests, production decline, water scarcity,
destructive wildfires, alteration of temperature and precipitation patterns, and other such consequences
become a risk, not only for crop owners' livelihood but to us all, as these occurrences directly impact food
supply and availability.
The severity of these phenomena has forced the industry to look for ways to become more
sustainable and to find tools and resources that can provide accurate and faster readings to help farmers
plan better.
Climate-Smart Agriculture
In the US, the agricultural industry accounts for about 9-10% of greenhouse emissions, primarily
methane and nitrous oxide, with anthropogenic impact usually related to soil degradation, deforestation,
and loss of biodiversity. This contribution can be reduced by following regenerative and sustainable
practices that ensure production with less impact to the environment.
Climate-smart agriculture (CSA) is now emerging as a viable alternative to tackle these changes.
Its three main pillars are Productivity, to ensure income and development for farmers; Adaptability, to
help farmers deal with current challenges and develop agricultural resilience; and Mitigation, to reduce
the impact of industry-related greenhouse emissions, erosion, and deforestation. These pillars help
manage solutions and processes at different levels within the industry, adapting policies and resources
depending on the country and the particular situation within the region while considering its ecosystem
and natural resources. Government and institutional participation, technology implementation, along
with the appropriate policies and investment efforts, can make a significant difference in the lives of
hundreds of farmers and protect our resources efficiently without disrupting economic and industrial
growth, food availability, and, most importantly, our planet.
Precision Agriculture tools, such as on-site weather stations, can provide accurate and complete
area readings directly to the farmer, allowing them to decide on aspects such as nutrient and fertilizer
spraying, irrigation, plague control, soil quality, among others. Digital tools such as apps and integrated
software can provide information directly from sources like the National Weather Service, sending alerts
and reporting on specific meteorological conditions and anomalies with reliable and updated data that
can be customized for the user depending on their location. Costs vary depending on complexity, but
there are some free and cheaper options, especially for apps, that ensure fast access to information.
Having these tools can help producers plan their strategies better, reducing the risk of loss and damage.
In our country, the USDA has recently announced a set of comprehensive agricultural
investments, along with the Climate-Smart Agriculture and Forestry Partnership. Through this initiative,
they expect to encourage, support, and finance climate-smart pilot projects that create new revenue
streams and market opportunities.
As the climate impacts the entirety of the value chain, companies are now taking the new reality
into account to shape their policies and develop more sustainable economies and markets. Many,
including VISCOSITY Oil, have committed to follow strict Health, Safety, and Environmental (HSE)
guidelines to ensure compliance with new industry standards, to reduce emissions, and align with national
and international efforts to move forward with decarbonization and environmental protection. This
collective effort will be crucial to maintain productivity, growth, and development for all involved,
ensuring food availability and resources for a cleaner, and greener, future.
Climate and Weather Forecasting in Agriculture While the concepts of climate and weather are related, they are not synonymous. They both refer …
Power Take-Off: Keeping Operations Moving Means Keeping Everyone Safe Adding implements to agricultural machinery is an affordable way of utilizing existing …
Read More