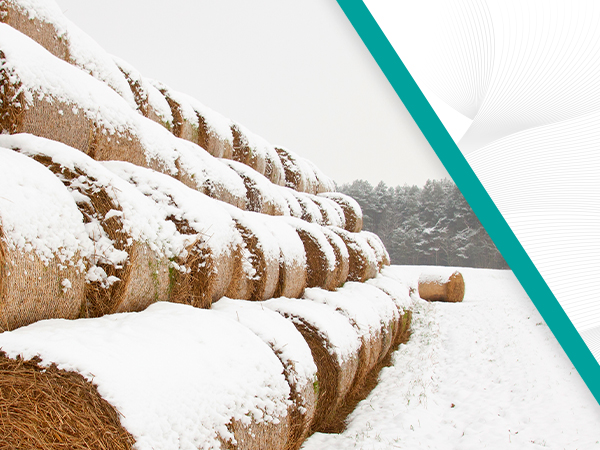 Winter is drawing closer, and early preparations are necessary to protect equipment against stationary periods and low temperatures. Timely maintenance can ensure that when the thermostat drops your equipment doesn't suffer the consequences of last-minute malfunctions during those cold, icy days.
Running operations in winter
Farming is a year-round activity with many farmers continuing to operate during cold weather and snow. Protective measures must be heightened during such seasonal changes to account for the new working conditions. Ensuring equipment and operational safety requires planning ahead of time so everything runs optimally and safely.
Preparing for the winter starts in summer when you should take inventory of the tools that you need for the upcoming season. Having items at hand and in working condition such as portable generators, chains, wheel weights, snow tires, diggings bars, and plows is just as important as having the appropriate protective gear like warmer clothes, masks, safety goggles, and boots to keep you safe against cold and slippery surfaces.
Cold days present a new set of challenges for daily operations. Humidity and low temperatures can severely impact the overall state of equipment and halt production as a result. Daily checkups and scheduled maintenance are vital to prevent any small issues from becoming bigger and more costly.
Hydraulic systems and fluid revision are critical, as cold temperatures tend to thicken its viscosity, causing the engine to lose power. Pumps cannot distribute the oil reservoirs across the mechanism, causing cavitation and improper lubrication; consequently, a high-quality
cold additive
can make a significant difference. Elastomeric materials are cold-sensitive, so a revision of hoses, seals, and tubes is necessary to check for breakages. Additionally, cleanups and comprehensive evaluations of covers, guards, belts, or any other piece of equipment that has been exposed to cold and humidity will ensure no rust or debris is present, which could prevent the machine from functioning properly. Make sure to follow the manufacturer´s recommendations on how often you should conduct these changes and revisions to optimize your schedule.
Battery checkups are necessary as cold temperatures cause them to lose their charge faster. It is advisable to refill your tanks with winterized fuel to avoid overnight freezing and clouding during operations. Storing the equipment in a warm place to prevent malfunctions due to temperature and idleness during non-working hours is also highly recommended.
One very important recommendation is to let your equipment heat up before starting. Block heaters can provide the required temperature for a correct jumpstart and a better fluid temperature for operation. Cold starts can cause engine oil to become thicker and can put extra strain on the battery, weakening its function.
Working in winter doesn't mean the inside of your cabin is meant to be an Arctic experience. Make sure your cab heater is working and your mirrors and lights don't have ice on them, so you have clear visibility. Ensure your tires are inflated according to equipment requirements; if you have installed chains for better traction, secured them properly. Chains are recommended even if you have snow tires.
If your operations are either partially or fully halted during winter, or if you are replacing your summer equipment for what you will use during the winter, there are many aspects to consider when storing your summertime gear. They include the following:
Make sure your equipment has been thoroughly cleaned before storing it for the season. Tiny animals can look for refuge in storage areas, so keep a close inspection to ensure nothing is nesting in it. Also, make sure to change the oil to avoid sediments that can solidify during colder months.
Remove any detachable electrical devices that may suffer from low temperatures and that could drain power from the battery during stagnant periods. The battery itself can be removed depending on the equipment model, but for some, it is much better to keep the battery installed and run it at intervals to avoid it dying or malfunctioning. Follow your manufacturer recommendations to determine your particular course of action in this case.
Perform a complete maintenance and check for any repairs your equipment might need that could impact its performance once it returns to the field in the warm season. If you need to replace parts, use this period to order them and get them ready so no time is wasted.
Keep your equipment stored in a dry, warm place. This will help reduce the risk of malfunctions due to cold, humidity, and exposure. Using a specialized antifreeze f or agricultural equipment will help prevent fluid from freezing but do so moderately and in line with product and manufacturer recommendations. Even if your equipment will be primarily idle, it is good to let it run every few weeks to thaw frozen parts and check for damage and battery conditions.
The VISCOSITY Winter Solution
Keeping work in fluid motion is our year-long commitment. VISCOSITY Oil products have been formulated for ALL seasons, to ensure your equipment is safe and performing at its highest capacity to account for your all needs and field requirements. Winter operations and stationary periods must not result in your equipment being damaged due to external conditions or idleness, so make sure you keep a close eye and use quality products to have comprehensive protection. Contact us to receive more information about the high-quality, premium solutions we have available for you so that you can continue moving fast, fluid and forward with the best formulations, regardless of temperature.
Keep them Handy: Manual Tools on the Farm Farming has experienced numerous changes since the days of plowing fields with oxen and …
Innovation: Important Tools Driving the Agriculture of Tomorrow Over the last several years, more businesses and industries have been focusing on …
Read More