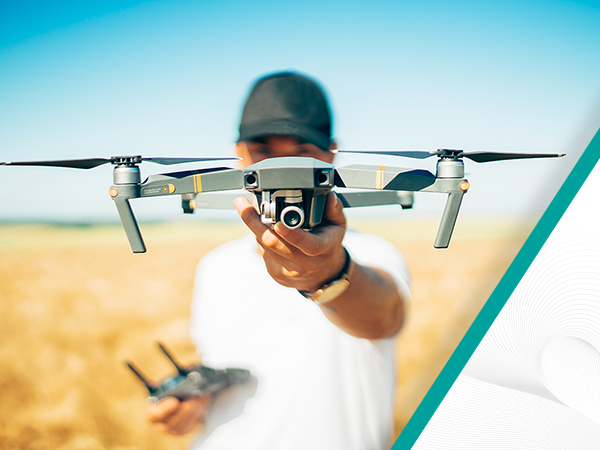 Precision Farming: "smart equipment for a smart production"
The agricultural industry is rising to the challenges brought forward by change and population demand. In a previous
article
,
we discussed data gathering and IT tools that can aid in precision farming, but no software or program can run correctly if the information is not accurate. Proper equipment can make a difference between an inexact operation and a precise one.
Agricultural drones are tested for durability, flight capability and performance, and have become versatile tools capable of accurately charting and monitoring farmland with precision and speed. Rotary, fixed-winged, and hybrid drones come in different sizes, battery duration, and usability alternatives, from small and simple, to enterprise-oriented premium level. Customizable and equipped with a variety of IoT, drones can be used to scan, map, and lift 3D impressions of the land, allowing the user to evaluate the soil with high-quality, multi-spectral aerial views.
Fitted with specific equipment to perform certain tasks or designed especially for the purpose of spraying fertilizer, herbicide, or pesticides over the crop, these aircraft can easily fly over the field and release the required chemicals as per the directions of the controller, scanning for areas deemed problematic or prone to fungus and weed growth.
These operations can be conducted remotely, and, with the correct data input, they can even become automated, programming the drone to perform certain tasks depending on the needs of the field.
Sensors and thermal cameras
Although most of this equipment can be found already built into a drone, there are some alternatives for in-field operations. Sensors can be used in a variety of ways, from measuring temperature and pH, to nitrogen and moisture in the soil, and even to check fluid levels in your containers. They can be placed on site among the crop and monitored remotely through a software or drone that has been programed for this purpose. For example you can install a sensor inside your truck's oil tank, providing a reading that will link to a specialized program, as is the case with VISCOSITY Oil's UBI Sensor, which connects to a hub dashboard that shows you real-time oil levels. The gear can be highly sensitive, allowing you to get accurate measurements and making it easier to concentrate efforts and resources in accordance with the readings.
Thermal cameras are also valuable tools. They can be used as security devices — for perimetral and indoor surveillance — and also to monitor aspects like irrigation, thereby detecting underlying soil issues such as leaks or dry spots, even when those effects are not yet apparent on the plants. Thermal cameras can have more direct applications in checking plant health, creating imagery of the plant's temperature and maturity, and detecting infections and bruising.
In some farms, thermal cameras can also be used to check temperature rates in containment bins, greenhouses, and other critical facilities.
In a world full of smart devices, it was only a matter of time before heavy agricultural machinery also got an upgrade. Nowadays, companies that specialize in farming machinery offer alternatives that not only include smart gadgets—such as GPS and sensors— but also push for automated and electricity-powered vehicles.
New farming trucks display information on screen to help guide and inform its user of any required data, from the basic harvesting route and land conditions, all the way to fuel level and machinery temperature and condition, making it easier to project oil changes and repairs. In response to labor shortages in the agricultural sector, new options of AI-driven trucks, where the human driver is optional, are out in the market, usually accompanied by a battery-powered system that generates less pollution and waste.
There is only forward with the applications and implications that this new technology brings to the table and it is up to us, much like a plant, to adapt and thrive among the new conditions and challenges posed to the agricultural industry. 
Harvesting Success: Crop Rotation and Cover Crops Crop rotation and the use of cover crops are key tools for sustainable farming practices …
Product Datasheets: A Window to Fluid Performance For one of our expert chemists working at our lab, a datasheet may be very …