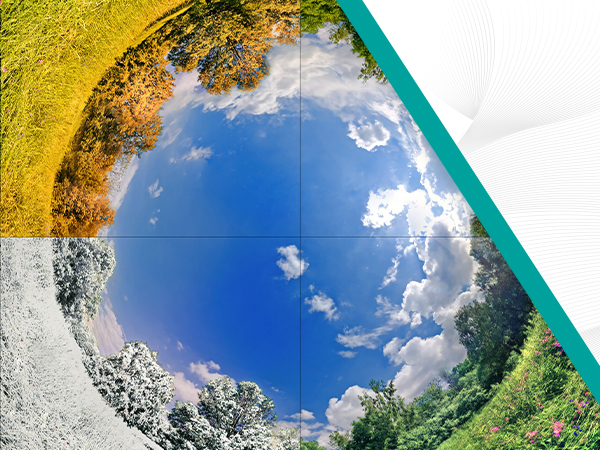 "It is only the farmer who faithfully plants seeds in the Spring, who reaps a harvest in the Autumn." – B. C. Forbes
A classic image comes to mind when we think about farms across the United States. Acres of golden pastures stretching under a warm sun and blue skies, cattle roaming freely, a wooden barn and a tall silo. While this picturesque idea of the summertime countryside is emblematic of our nation, a farm is a farm all year round, not just on sunny days.
"I've learned that seasons go very fast, so you've got to make the most of your opportunities."
Marked by particular weather patterns and daylight hours, each season serves as a different stage in the lifecycle of agriculture. Spring, summer, winter, and fall all have specific significance in the farmer's almanac.
For centuries, farmers have used the moon's phases and the sun's cycles to guide them in their agricultural routines and practices.
The Autumnal Equinox marks the official transition from summer to fall in the northern hemisphere. The equinox occurs when the sun's center crosses through the celestial equator, illuminating both hemispheres equally. Starting then, the days become shorter, with late sunrises and early sunsets.
"Autumn is the mellower season, and what we lose in flowers we more than gain in fruits."
Autumn is known for the color-changing foliage that falls from the trees and rustles in the wind. Also called Fall, this season is most often associated with harvests; the full moon that occurs closest to this date is also known as the Harvest Moon. This moon rises around sunset for several nights in a row and allows for just enough extra light for farmers to finish their harvest before the cold temperatures and frosts arrive.
Most harvests start in mid-September and require farmers to work diligently to reap the benefits of the seeds sown earlier in the year.
Corn
and beans will have reached their highest point of growth and will need to be combined for feed and stored or be sold.
Once harvested, fields can then be tilled to prepare for the following year's crops. In this tillage process, organic matter is left as natural compost.
Fall is the culmination of a long year's hard work. It requires farmers to take inventory and safe-keeping for the farm's next lifecycle to prosper.
"Winter forms our character and brings out our best."
When winter rolls around to farms, it is a season of recovery and preparation.
Over winter, agronomers will assess yield maps and management practices to best decide on how they should proceed the next year. This is also when tree pruning is most often done. Some farms and homesteads use greenhouses which prove to be most important over winter.
At VISCOSITY, we recommend that farmers take advantage of the slow season to review their gear, ensuring they are not running low on any
essential fluids or premium lubricants
for their equipment to continue working in fluid motion.
Winter temperatures can be rough and cold spells can pose an environmental threat to livestock. Farmers will also need to ensure that their water source does not become frozen over the winter. 
"Spring is the time of year when it is summer in the sun and winter in the shade."
Marked by the vernal equinox, spring days are longer, and we come out of hibernation. Spring signifies the first budding signs of life on the farm. It brings newborn animals, the first sprouts, and work starts to get busier.
After-winter maintenance is needed on the grounds. For farms with livestock, it is important to check the fences' quality.
Most crops, including corn, soybeans and sugarbeets, are planted at the start of this season, while the first greens are picked. Some farmers will use pre-emergence herbicides to prevent weeds from sprouting and pesticides to keep away any pesky plagues.
As the famous rhyme says, March winds and April showers will make way for May's flowers. However, due to 
climate change, 
it is important to remember that there can be latent frosts in spring which can severely affect crops and damage fields. Farmers must take preventative measures for unpredictable forecasts.
"'Cause a little bit of summer is what the whole year is all about."
Next, summer arrives and proves to be a favorite time of year on the farm. Though gifted with the longest days and the most fruit on the trees, this season requires a lot of work for farmers, and for many, it can be a make-or-break environment.
Rain is also a critical factor in these months. Too much or too little can have a detrimental effect on farms, so special attention to irrigation is a must to make sure crops do not suffer from drought.
From monitoring crop control to fertilizing fields, summer tasks farmers with maintaining the maximum conditions under extreme heat. Finding this balance can be a challenge and it is important to take personal care to achieve best performance.
Livestock needs extra care this season. They require enough access to water and shade to not overheat. This is the time of year for fairs and livestock competitions, too. Summer also asks that farmers cut, chop, and bale hay.
Although farm life might not seem like the most fast-paced lifestyle, farmers keep busy all year round. VISCOSITY Oil knows that timing is everything on a farm and aims to support the community with their proper planning and seasonal preparation necessary. The hours fly by when working the land, but there is always reward to be had.
Let us know which is your favorite season spent on the farm and check out our products to find the perfect fit for you to keep working fast, fluid, and forward, 365 days a year!
Winter Preparations for Agricultural Equipment Winter is drawing closer, and early preparations are necessary to protect equipment against stationary periods and low …
Lubricants: The Key to an Efficient Maintenance Budget The changes brought by the COVID pandemic have strained the production and development ofmany …
Read More