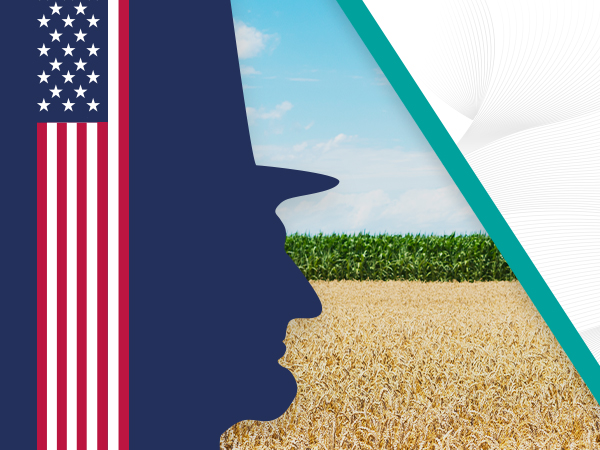 On May 15, 1862, President Abraham Lincoln signed legislation creating the United States Department of Agriculture.  The former president valued agriculture as "the largest interest of the nation" and, thanks to his vision, he was able to lay the foundations that govern agricultural policies today.
An Agricultural Background
The 16th President and one of America's Founding Fathers, Abraham Lincoln is known for many milestones during his presidency. However, one crucial aspect of his life, which shaped his visions for the America of the time, was how agriculture and rurality played such an important role in his life.
Lincoln's background was on the Western frontier.  He lived with his family on acres of land used for pioneer exploitation, in comparison to settled cultivation.  Lincoln was born in a log hut in Central Kentucky, but it was no woodsy fairytale.  As a child, he grew up on a 30-acre farm where only half could be cultivated due to the natural landscape and geography characterized by hills.
Upon realizing that this lifestyle was not sustainable, Lincoln's father moved the family to 160 acres of marshland in southern Indiana, where he later developed acres of corn, wheat, and oats.  A young man himself, Lincoln was hired to work the farm and other tasks until he was ready to set out on his own.  There is no doubt that this quality of life shaped the man into who he became as President of the United States.  As he moved forward on his journey, Lincoln continued to shape frontiers and became a country lawyer.  Given his experience and background, he became a figure that represented farmers and small-town democracy.
As his career furthered, Lincoln never strayed too far from his roots. He would attend state fairs and endorse them as places for bringing the community together, furthering discussions of how to improve agriculture throughout the country.  Gifted with an innovative mind, Lincoln learned from his years of observing the field and would offer his wisdom on how to steer agricultural technology.  One example is how Lincoln commented on the potential efficiency of using steam plows in contrast to horse-drawn machines.
The Early Stages of the USDA
Once he became President, and two and a half years after he signed on the creation of the USDA into law, Lincoln referred to the newly created Department as "The People's Department". This significant statement echoes the great value that American citizens put into farming and agriculture, and how working the land is the basis of economic and social development for communities all over the country.  This moment in our political history allowed for great strides in agricultural development and significance, touching the lives of the citizens and improving their quality of life even today.
In his speech, Lincoln's stated: "The Agricultural Department, under the supervision of its present energetic and faithful head, is rapidly commending itself to the great and vital interest it was created to advance. It is precisely The People's Department, in which they feel more directly concerned that in any other. I commend it to the continued attention and fostering care of Congress." He later appointed agriculturalist Isaac Newton as Commissioner of Agriculture.  Newton had been a model farmer who worked as chief of agriculture in the Patent Office, who shared the same values and a close friendship with the President.
Committed to education and his values that farmers' interests were the interests of the country, Lincoln pioneered for agricultural reform and different structures of labor management and landowning.  To quote, he said: "…no other human occupation opens so wide a field for the profitable and agreeable combination of labor with cultivated thought, as agriculture."  Staying true to his beliefs, Lincoln continued to advocate as a nominee of the Republican Party in 1860 and would work towards many proposals' fruition.  Alongside the creation of the federal Department of Agriculture, other motions included the demand for homestead measures, federal aid in the construction of the railroad to the Pacific Ocean and grants to fund federal land as spaces for higher education in engineering and agriculture.  Lincoln was, in all senses, a pioneer of his times.
In 1862, about half of Americans were either living or working on farms. Today, that statistic has drastically dropped to 2%, mostly due to the massive move into city and the new technologies, industries, and increased access to education that defined the later part of the XX century.  Despite this shift, the USDA has continued its role of improving agriculture, food, science, natural resource conservation and economic development, maintaining Lincoln's legacy and hopes for the future.  In 2012, the Department celebrated its 150th and continues to move forward into the challenges and significant advances that have revolutionized agriculture in the XXI century.
Honest Abe was known for his humility and for valuing the hard work of the laboring class. As a company, here at VISCOSITY, we share those same values, following the vision of always working in fluid motion to provide the solutions that our customers need. Visit our
About Us
section to learn more about our company and get all the
premium products
we have designed especially for your heavy-duty equipment.
Pushing Innovation Forward: VISCOSITY Oil Laboratory "We accept the challenges to make a contribution to our success." Our minds bring about change. …
American Roots: Abe Lincoln & Agriculture On May 15, 1862, President Abraham Lincoln signed legislation creating the United States Department of Agriculture.  …
Read More